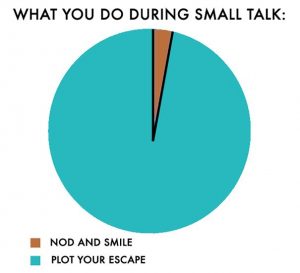 I really loathe and detest small talk. It's one of those awkward social twonks you have to deal with on a regular basis, and it really is hard work at times.
Last night I ordered a taxi, and had to spend a good 20 minutes trying to strike up a conversation with the driver (who was British for a change) in order to avoid equally awkward silences. So you strike up a conversation with the usual inane questions:-
"Busy tonight?"
"Do you enjoy this lark?"
"Any cunts you've had to deal with?"
Another scenario is small talk in the lift/elevator. Other than saying "4 please" that's about as far as I want to go with talking to other cunts in the lift, especially cunts I don't know. So we all stand there looking at the floor lights above the door, all of us wishing for our floor number to glow and the doors to open so we can get the fuck out!
Or you need a plumber, a spark or some other handyman (oops, I mean "handyperson"), to come round and fix something. Again more with the small talk "Would you like a cup of tea?" "How are you getting on?" "Had a busy day?"
Or queuing at bus stops. Not so much the big queues, but if there's 2 or 3 of you, and the bus is running late and the small talk kicks in.
"The bus is late isn't it"?
"Bus service is getting worse!"
"It's the government's fault"
"The weather's bad isn't it?" (as we get blown around in a force 10 gale with the rain lashing at our faces)
Then there's the social occasions like weddings and birthdays, and the pain of more small talk spread over hours and hours of utter bollocks with people you don't really know.
Or you enter an office early in the morning, and you go into the office kitchen, and there's some cunt there making a coffee. You don't know this person, but you're not sure whether to be polite and strike up a conversation or just to shut the fuck up and ignore him. But you feel inclined to say at least "Good morning!" which puts the ball in his court, until he replies in kind. And then you're kind of fucked as to what to say next!
It also reminds me of those 1st dates when I was in my naive yoof. You'd meet up with your girl inside a pub or eatery, you're then shown a table, the waiter takes your order, and then you're both sitting there face to face (this was in the days way before the distraction of mobile phones), and you're desperately trying to think of something profound in order to impress your girl, but your brain lets you down yet again. So you end up saying something shite like "Do you come here often?"
These days I feel far more inclined to say how I truly feel, but politeness always holds me back.
Nominated by Technocunt