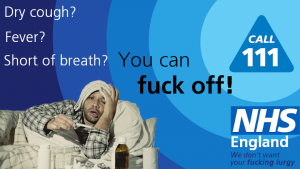 Cripes and jeepers, things are getting serious. Large amounts of shit are about to hit the fan due to this nasty little Coronavirus bug.
According to Health Secretary Matt Hancock, illustrious members of the over 70s club 'could soon be asked to self-isolate', for our own protection. This period of isolation could last for months.
Well, this is going to be a jolly jape and no mistake. The obvious questions of how self-isolating individuals are to be kept supplied with food and medications will immediately occur to everyone, but no doubt the government will be working on some form of contingency plan. Well, let's hope to Christ that they are. The devil will be in the detail, and boy, is there a ton of detail. What does a family do if granny lives with them; lock her up in the box room? What do you do if your boiler breaks down? Will someone be allowed in to fix it? What happens if you have a hospital appointment scheduled, or you need to see the dentist? What do you do if the MOT is due on your car? What about…
Self-isolation is going to be a right cunt and no mistake. Cue Vera Lynn; 'we'll meet again, don't know where don't know when…'
Coronavirus: what a sack of Chinese cack.
Nominated by Ron Knee