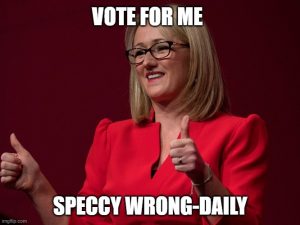 SPECCY WRONG-DAILY…
The most pernicious lie in the Coronavirus scare campaign is the claim over 'herd immunity', or, to be more blunt, the claim we are about to be subjected to a Government-sponsored genocide of the old and sick.
Chief Scientific Adviser Sir Patrick Vallance had stated that in order to finally defeat the virus, 60 per cent of the UK population would need to contract the disease at some stage, building up sufficient natural biological protection to protect the more vulnerable members of society.
This was immediately seized upon and spun as an attempt by the Government to perpetuate a new form of natural selection.
Rebecca Long Bailey's media team took to social media to claim: 'With the current mortality rate, that's 780,000 deaths. Which amounts to almost twice the number of British civilian and military casualties in World War Two.'
But as a No. 10 official explained for the umpteenth time: 'Our objective is not to secure herd immunity. Our objective is to flatten the curve of the virus's spread to ensure the NHS and other services retain the capacity to protect the most vulnerable patients.'
Staggering that a contender for the Labour Leadership and potentially a Leader of Her Majesty's Opposition or – God forbid – our future Prime Minister – should stoop so low in order to gain political power as to spread such irresponsible fake news.
But then her nickname is 'Wrong-Daily'…
Nominated by Dioclese