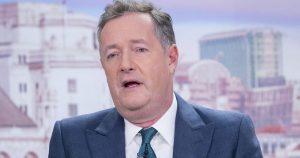 Just shut the Fuck Up,you self-important Sack of Shite.
Screaming hysterically over the answer any "Guest" tries to give,the Pound-Shop John Bull is an expert on every subject known to Man….of course, if hindsight is a gift,Morgan truly is one of The Blessed. He always knows/knew best and woe-betide any expert or professional who attempts to get a word in before Gobshite Piers puts them right with his view. Wonder if his hindsight extends to his decision to print faked photos or tap phones? Probably not,his pompous,opinionated,bombastic Windbag type are quick to forget/ignore anything that might actually expose them as lying,egotistical cowards.
Crawl back under your stone Cunt, before someone splatters you like the slime-oozing slug you really are…and take your "celebrity mates" with you.
PS….I won't wish that Piers gets Coronavirus…there's a chance the Wanker may recover from Coronavirus and that would never do.
Nominated by