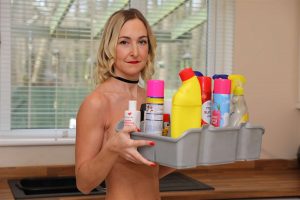 A nomination for Claire O'Connor, who has decided to set herself up in business as a naked cleaner, charging £95 per hour.
Not sure of the reasoning behind this, although apparently, it's not a new idea and some weird people have been doing this for years.
Did she think about the effect it might have on her children and the taunting they will no doubt suffer at school? There is a picture of her on Yahoo, but it doesn't show the full monty, even though she states that she is outgoing and not at all shy.
I think we should be allowed to see exactly what she has behind that box of cleaning stuff, before paying her £95. Even better, do your own cleaning and ignore this daft cow.
Nominated by Mystic Maven