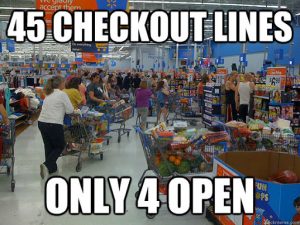 When I used to live on the outskirts of Birmingham there were many things that used to really piss me off, not least the crime, the pollution, the noise, the rat-race, the fucking idiotic driving, the gimmecunts, the dozy, twattish pedestrians glued to their fucking phone and a whole raft of other little niggles that all proved to be the final straw, before we packed our bags and got the fuck out Dodge!
Earlier this morning I went shopping with the wife to a small little town called Egremont, just up the road from where we live in the Lake District. It's a small town, quite busy at times, but certainly not mental compared to the manic big city.
But what was a real delight was the far more relaxed shopping experience. Parking was easy, traffic wasn't too bad; everyone was very pleasant to each other, and the actually shopping itself was very agreeable with no dawdling goons in the aisles or waiting at the last minute to look for their fucking credit cards at the tills!
Compare and contrast that to the utter shite that was shopping in Birmingham's city centre, and the new Bull Ring (or whatever the fuck its called these days). Driving into the city centre is a fucking experience in itself – you would probably find climbing Mount Everest an easier option quite frankly. And then there's the hassle of finding somewhere to park (the NCP multi-storeys, are hideously expensive, dirty and a mugger's paradise).
Then you have to walk from the car park to the shopping centre without being whacked by cunts on bikes or electric scooters, smartphone zombies, drunks, vagrants, druggies, beggars, chuggers, dawdling twats, parents pushing those double-berth prams, along with bags of shopping and four other screaming brats in tow.
And once you enter a shop you're instantly assailed by some sales assistant cunt getting in your face wondering if you need any help. A simple "fuck off!" always helps. But conversely when you do want some help, there's not a cunt to be seen because they're all in the back of the story gossiping about some cunt on "Shitbook".
You get to the till and pay for your goods, but are also asked by the spotty oik if you need a bag. You say yes, but they give you the smallest, flimsiest bag they can find and charge you 10p for the privilege, but make no attempt to put the items in the bag for you.
As soon as you step outside, you're instantly assailed by the same cunts you tried so desperately to avoid on the way in, but this time you're carrying something that may attract some cunt with a knife. So you hurry along to your car in the multi-storey only to find it is squashed between two big SUVs, neither of which have left you much space to open your door. And on closer inspection you notice your other cars door panels have been dinged! Then you have to find your way out of the city centre. Not an easy task even with sat nav, because it is telling you one thing, while the many road diversions littered along the planned route tell you quite another.
Throw in some tailgaters, manic cyclists with no lights, pedestrians simply walking into the middle of the road without looking, and a few boy racers giving you a hard time, is it any wonder high streets up and down the country are becoming like ghost towns.
Thank fuck I don't have to put up with that shit any more!
Nominated by Technocunt