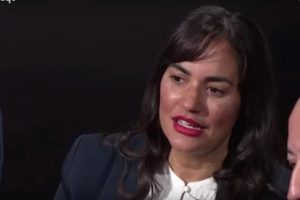 Rachel Boyle is the academic who posed the question that Laurence Fox shot down on 'Question Time'.
She attributed the public perception of Meghan to be tainted by racism because Meghan is black. Meghan is not black, she's as much white as she is black. Rachel, however, only sees Megan's black heritage. She's eliminated Megan's white lineage to suit her own prejudice. Rachel only has one card…the race card. Any criticism of anyone that's not white can only be attributed to racism in Rachel's world view.
Rachel's world view is comparable to looking the wrong way down a telescope. She sees racism in everything and then builds here argument on that premise.
I'll now go where I probably shouldn't. Britain is a white nation. There is no white privilege here. You can be dirt poor and white, or filthy rich and white. However, it's the default race of the people indigenous to this country. Any other race in this country have turned up late for the party, but there are dirt poor BAME and filthy rich BAME people living in the UK in the relatively short time we have entertained mass immigration. I regard BAME folk in the UK the same way I regard white South Africans. They exist, but let's face it, they can never be considered indigenous people. Some will call me racist, but they are people that don't understand the true definition of racism.
The twitter mongs and others are out for Laurence's career, if not his blood. People need to stand up and defend him. He said what the vast majority of people think. We are tired of being called racist, we are tired of being slagged off for being white, we are tired of people like Rachel who are far better of being British citizens than they would be if their parents or grandparents had not come to the UK, cunting us off as individuals and as a nation.
I'd not stand by and watch another human being attacked or deprived of life due to their race or religion, Rachel. I won't, however, have some cunt tell me I have white privilege because I was born in a nation that is ethnically white. If I decide to go and live in Africa or Asia I fully expect the indigenous people's culture, welfare and wishes to take priority over mine.
For fuck's sake Rachel, why are you playing the victim? Why are you not celebrating as a woman of colour that you are able to be a success in this country and that Megan was welcomed into the Royal family regardless of her colour and regardless of her shit show family? This has to be the most tolerant nation on the planet, but you won't be happy until the indigenous white people are subservient to immigrants.
Fuck off, Rachel. White, black, or whatever, we should be grateful everyday we wake up in this civilised and tolerant country.
White privilege or BAME complex?
Nominated by Sixdog Vomit