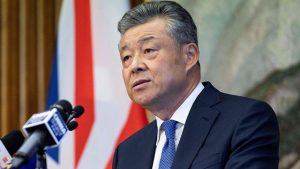 A slitty-eyed cunt nom please, for the Chinese ambassador to the UK.
At the time of writing, 813 people have died worldwide from Coronavirus, with 37,000 infections, mostly in mainland China and 27,100 confirmed cases in Hubei province alone. The disease has now already overtaken the 2003 SARS virus death toll of 774 and it's probably only early days yet. Coupled with the fact that the Chinese government seem to have been rather inept in reacting to the outbreak and the doctor that tried to warn them about the threat, Li Wenliang has himself died from it, this bug-eating little turd has the temerity to suggest that the UK overreacted to the news of the outbreak. Also, slitty man accuses Brits of hatred and waycism to towards people of Chinese heritage, as the virus spreads.
Does Mr 'Sly'oming really expect us here in good old Blighty to accept the predigested, oven fresh bullshit that he accuses us of? Or is this simply barefaced arrogance from the representative of a country that now believes it is so powerful, that it can do no wrong? I think possibly the latter.
Well, now that people are beginning to drop like flies in China and confirmed cases are rising here, I wonder if his statement "it's time for science, not rumours" will come back to bite him on his yellow arse.
Cheeky CUNT.
Nominated by Dai O'Rhea