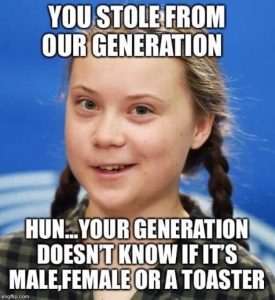 Another day, another cunting for this snotty-nosed, up-her-own-arse, self-important little wanker, with the news that Miss Thunderpants is to star in a BBC (who else?) series about her life and times – all 17 years of it – and her "journey to adulthood"….let's just hope there is no full frontal nudity.
https://www.theguardian.com/tv-and-radio/2020/feb/10/greta-thunberg-to-make-new-documentary-series-for-the-bbc
Nominated by W. C. Boggs
'Two Cunts For The Price Of One' Offer:
Today we have a special offer exclusively for IsAC regulars: a 'two for the price of one' cunting. Yes, this not-to-be-missed deal provides a fabulous opportunity to participate in the dual cunting of St. Grunta of Cuntberg and that usual suspect, the BB fucking C.
Good Old Auntie's Science Unit has announced a series 'starring' climate activist and habitual truant, Greta Thunberg. The series will explore the climate change issue whilst charting the rise and rise of "Little Miss Angry" as she pursues her crusade to save the planet. BBC Studios Executive Producer, Rob Liddell, waxed himself as he burbled "to be able to make this with Greta is an extraordinary privilege, getting an inside view on what it's like being a global icon and one of the most famous faces on the planet".
Global icon? What the fuck? All together now: "she's not a global icon, she's a very naughty girl!". Yes, great idea Beeb. Follow this climate change fanatics' mouthpiece around the world with a crew and a load of equipment, generating a bloody great carbon footprint in the process.
The world's creepiest teenager and the 'right on' BBC, polluting the environment by generating more hot air between them than a Boeing 747.
Nominated by Ron Knee
Admin: sorry, couldn't resist rolling this one out again: