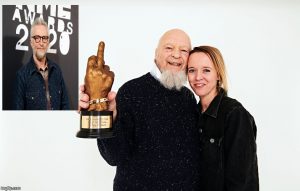 A joint cunting, if I may, for Emily Eavis and Billy Bragg. Another pointless day filled with YouTube surfing popped up this piece of shite:
https://www.youtube.com/watch?v=LymykRl6img
Not ever having seen a picture of Ms Eavis, I wondered if it might have been a spoof. However, no, I was mistaken, as there was another cunt who I did recognise, who was presenting the NME award to her – Billy Fucking Bragg. The social warrior who is all for diversity but, unsurprisingly, lives in deepest Dorset, probably as far away from his "beloved" London as one could get.
So, back to Ms Eavis. I know who she is, but have never seen a picture of her. I know she runs Glastonbury – a middle-class wankfest as far as I can tell. So she gets an award and is apparently, "god like" (I won't give it a capital G as she is not God, she is a cunt) because she rakes in millions of pounds each year for the Eavis family. I see her bearded old cunt of a father was in the audience.
What the fuck is wrong with this country? If you can bear to watch it, I think there is even more shit on this NME thing. What the fuck happened to the NME of old – anti-establishment, iconoclastic newspaper. Now they are more establishment than Jacob Rees-Mogg.
What a bunch of cunts. Oh, and the cheeky cunts have stolen your idea for the middle-finger award thing. Double plus cunts.
Nominated by Lord Cuntingford