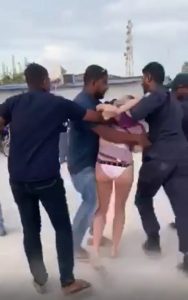 A cunting for arrogant, disrespectful tourists who treat other people's home countries like they're theme parks that exist for rich westerners personal amusement. A skank was arrested the other day in Muslim Maldives for wearing a bikini in a public place, which from the locals point of view is like going naked:
https://www.belfasttelegraph.co.uk/news/uk/maldives-police-apologise-over-arrest-of-tourist-wearing-bikini-38935159.html
Now I'm no fan of Islam, but it is their country and this cocky bint thinks, "oh well, I'll do whatever I want to do, make way for me and my human rights". They have a right to have their own country, with their own customs, social norms, and laws. When going abroad, a person should respect other peoples tradition and not trample on them like "well, I'm so rich compared to these peasants I'll just do as I please. I'm special!"  You're not special. You don't even belong there, so respect others' cultures. Their home nation isn't one big resort that only exists for your pleasure and entertainment.
I've got no sympathy with cunts who go abroad and naively expect those foreign lands to be like home, that you should enjoy the same privileges as here, and then get themselves banged up for spitting in the face of the hosts.
Nominated by Agent Double-O Shagga