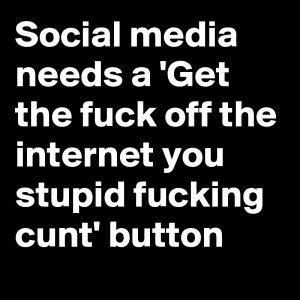 I know that most ISaC users are sensible people who despise social media, what with the epithets of Twatter and Instacunt etc. So why are children and teenagers allowed to use social media? We don't send kids up chimneys to work anymore and we have laws banning the sales of alcohol to them so why are they allowed access to terrorists, pro-suicide shit, anti-Semitic shit, endless vacuous influencers, the rantings of Rose McGowan, et al? Why the fuck does a child have to communicate with another child outside of school and share documents and images in real time? Its utter bollocks as they simply do not need it.
I just watched a segment on Victoria Derbyshire (VD) about the dangers of social media. There sat a teenage girl moaning about how toxic social media is and how it made her feel bad. Apparently this vulnerable mental was addicted to feeling bad, or some shit. Where were her parents in all this? Too dumb and/or bone idle to block out the offending sites and monitor her device usage, more than likely. Just look at the case of teenager Molly Russell who killed herself after seeing too many suicidal posts on Instagram – the father is calling for the social media companies to hand over data and he mumbled that 'something more has to be done' because self-regulation has failed. Exactly where were the parents whilst the daughter was using Instagram and consuming dark and dangerous content?
Apparently, the government are going to do more to make social media sites safer, well good luck with that, sounds like something that might bare fruit in about 50 years time. Social media companies will never self-regulate properly, so why not just ban under 18s from using social media in the first place? Start putting in the national curriculum that social media, and the internet in general, contains dangerous content, from perverts to political extremists, so stay the fuck away from it. Make a public information film or two.
Social media is the same as alcohol in my eyes and should be banned to under 18s. Part of me doesn't give a toss if parents are too stupid to prevent their children accessing unsuitable content but the other part of me does care and the whole thing gets up my nose because it seems quite obvious to me that a child shouldn't be left alone to indulge in Instagram, use bloody Snap Chat, nor have unfettered access to the internet. Just as I would never allow any child of mine to have access to bottles of whiskey, then I most certainly would not allow them to use Facebook or Instagram etc. and probably they could have controlled access to Wikipedia and that'd be it! No smart phones either. They can have some coins and use a bloody phone box if the need arises!
Its hard to pinpoint one cunt in all this so I am unable to offer a title. Social Media is a massive snake infested cunt for umpteen reasons, parents who let their kids use Social Media and do not control their access to the internet are at best dumb cunts and child abusing cunts at worst. The government is a cunt because it could just pass a law to prevent kids under 18 being allowed Social Media accounts for starters. The BBC are of course always cunts. In this morning's VD, the BBC are cunts for not mentioning parental responsibility, or where parents watching could get more information about protecting their children online. Instead the BBC put up the Samaritans phone number.
Nominated by Cuntologist