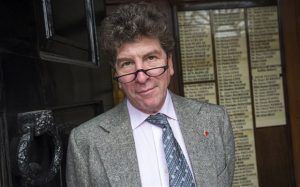 A cunting for defence barrister, Michael Turner QC.
He is defending Muhammed Rodwan; he is, you may remember, the cunt that took a machete to a police officer who stopped him in his van for suspected driving offences. Turner has introduced the fact that before his shift, PC Stuart Outten sent a text to his girlfriend saying he was, "off to cause trouble". I've told people I'm off to take a customers network down before heading to site; it's obviously a fucking joke.
Turner is, I assume, trying to say PC Outten was looking for a machete in the head that evening and his client was obviously a victim of police harassment, probably due to institutional racism and, of course, prejudice against Muzlims rampant in the police.
Are we to understand that it's acceptable to take a lethal weapon to a copper performing a traffic stop?
It's a pity the cunt wasn't stopped by armed police who would (I hope) have shot the cunt the moment the machete was seen in the defendants hand. If Turner ever needs the police to save his skin they will show up and save him, I'm sure.
What a piece of work, exploiting what's obviously a joke text to put doubt in the minds of the woke jury members who will jump at the chance to make the assailant into the victim.
Nominated by Sixdog Vomit
Just going to add this on with his previous convictions and what he did.
https://www.thesun.co.uk/news/10809355/van-driver-hacked-cop-in-head-machete-previous-machete-attack/