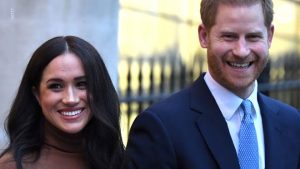 Little Miss Sparkle…
Once upon a time, not so long ago, in a land far away, lived a young girl called Meghan, who dreamed of becoming a princess and being fabulously rich and famous.
'Boo hoo' sobbed little Meghan one day, stamping her little foot. 'I've been on teevee, but I'm not REALLY rich or famous. I want the world, or more. I want fame and fortune, with money, and houses, and jewels, and gowns, and servants and stuff. I want to be LITTLE MISS SPARKLE'. So Meghan hatched a plan, which did indeed lead her to Olde England and marriage to handsome, dashing Prince Harry de Halfwhitt in Windsor Castle, watched by an audience of billions. And there was rejoicing throughout the kingdom.
For a while all went well, but it was destined not to last. 'Boo hoo' sobbed Her Royal Highness the Little Miss Countess of Sparkle again one day, stamping her other foot. 'I've got fame and fortune. I've got money, and houses, and jewels, and gowns, and servants and stuff. But those horrible Brits actually expect me to perform duties in return, such as shaking hands and cutting ribbons. Everybody hates me. It's cos ah is black. I don't even have my own horse drawn gold carriage either like every princess should. Things are going to change; what Meghan wants, Meghan gets. I want to be a "progressive" royal. This means I want to do as little as humanly possible commensurate with keeping my HRH title and the money and stuff. Then I can cash in, and be free to earn zillions fronting up for Disney and Givenchy, do book deals, go on "Oprah" and diss the royals and stuff. I can be Princess of Hearts as well, I know it'.
So broiling slowly in her sense of grievance and entitlement, Little Miss Sparkle headed to the magical island of Vancouver, dragging Prince Harry de Halfwhitt, their son Archie, and their dogs with her. There they sat in luxurious idleness and seclusion for six weeks, while a wise old man called Mr Barack gave them counsel as to how they should proceed. 'I say to you' said the wise old man, 'trademark your socks and your mugs and your jewellery, but tell no one. Then go back to Olde England, drop the bombshell that you're off, and demand a fabulous financial deal from that old bat the Queen in return for not making more trouble. It's win-win, you'll be absolutely minted'.
So the Halfwhitts returned to Olde England, leaving their son and their dogs in Vancouver, and proceeded to give the finger to HM the Queen, the royal family, and the bill-paying public. But the Queen pulled a face as though a truly malodorous guff had just been let off right under her nose, and pronounced that 'One Is Not Amused'. So leaving poor Prince Harry de Halfwhitt to face the music, Little Miss Sparkle promptly flew back to Vancouver generating a massive carbon footprint, never to be seen in Olde England again.
Next episode; the 'accident' in the tunnel.
*with apologies to Roger Hargreaves
Nominated by Ron Knee