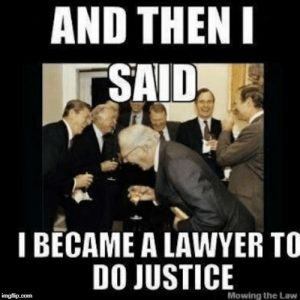 Forget the 'Rumpole' idea of a lawyer being a cuddly old rogue with a tattered wig, half moon glasses and a liking for foul-smelling cheap cigars, Wordsworth and Pomeroy Wine Bar´s house champagne. Even the lowest of the low, crackhead, child molester is a pillar of virtue compared with lawyers, most of whom sleep in coffins and flee in terror at the whiff of a clove of garlic.
Opinionated, corrupt, mercenary, inhuman, parasitical are only a few of the adjectives that spring to mind in relation to this abject bunch of bloodsuckers who have been around forever and are everywhere.
From the bullying 'Jaggers' in "Great Expectations", who lets poor orphan 'Pip' delude himself that crazy old bat 'Miss Haversham' is grooming him to become a gentleman and get his sweaty hands on nymphet 'Estella', to showman Johnnie Cochran, who used racist smear tactics to free O.J. Simpson from the electric chair after he had slaughtered his wife, they are a disgrace to the human race.
They love the publicity and delight in defending the indefensible.
Remember that creepy little Frenchman 'Maitre' Jacques Verges from the 80s whose "clients" included Nazi Klaus Barbie, terrorist Carlos the Jackal and Khmer Rouge boss Khieu Samphan?
Still they don´t always get their own way as shown in the Netflix series on the Ukranian mass murderer known as Ivan the Terrible. His lawyer so enraged Israelis that he had acid thrown into his face by a Holocaust survivor.
Surely the time comes for some honesty with scum who are blatantly guilty?
"Yes your honour. My client is a disgusting piece of shit who committed all these crimes. He does not regret them in the slightest and wishes he could get off, but realises he can´t as he was filmed in the act. Therefore, I don´t intend wasting your time with excuses and am placing him at your mercy. It doesn´t really matter to me as I´ll get paid anyway. Oh, by the way, I intend appealing anyway to spin this circus out even longer".
Nominated by Mr Polly