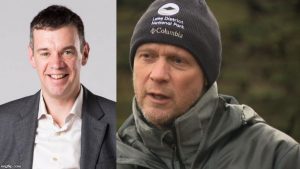 Julian Glover and Richard Leafe are cunts. "Who?", you ask. Exactly. I was unaware of either until a story popped up on my Sky news feed.
Leafe is apparently the head of the Lake District National Park Authority in Cumbria, who claims that the Lake District, one of the UK's most beautiful natural landscapes, and an area beloved by millions around the world, needs to change, "to attract a more diverse mix of visitors."
Glover is the author of a report championed by Leafe, in which he claims the Lake District is a "exclusive, mainly white, mainly middle‐class club, with rules only members understand."
A club, is it? Well blow me down! Here I thought it was just an area of outstanding beauty, where the only rules were "turn up, enjoy yourself, and don't litter the place". Obviously, I was wrong and need to turn myself into a re-education camp as soon as possible.
Perhaps we'd better stick Beatrix Potter in a burka, and drain Windermere in case it triggers anyone who can't swim. Install stair lifts up Scafell Pike for the obese, and make sure hotels in the area make their menus more inclusive – breakfasts of Cumberland vegan sausage, BAME pudding and halal bacon.
Peter Rabbit in blackface, perhaps, enjoying traditional Kendal Jamaican patties. Jemima Peking-Duck for the Asians, Squirrel Nutkin emptying his nuts in Tom Kitten for the alphabet people. Reinvent Mrs Tiggywinkle as a one-legged lesbian mother of eight ethnically-diverse kids, and the Tailor of Gloucester as an evil capitalist exploiting his workers until they rise up under literal communist and feminist icon, Ms. Moppet.
Jesus Christ! If this is the state of the world today, can the last sane bugger out of the UK please switch off the lights.
Nominated by Le Cunt Noir
Richard Leafe is a cunt!
This bellend is head of the Lake District national park authority, and he wants to attract a greater diversity of visitors, as he thinks large portions of society feel excluded. Too many white people apparently, and this threatens its status as a national park. Also, there is poor accessibility for the disabled, in an area that includes Scafell Pike, England's highest peak.
Perhaps this is the crap he has to accommodate to secure funding, but that would still make him a cunt for not speaking out against it.
I can't imagine there are measures in place to exclude or discourage certain people from enjoying these areas. I would rather eat a builders bag full of dogshit than go to a football match, but I don't feel excluded when they happen locally.
Perhaps I'm being a bit old fashioned, and the three peaks challenge of the future could be done on a mobility scooter, with a celebratory KFC on each summit.
Nominated by Gutstick Japseye
Like to tag onto japseyes nom,
Saw this earlier on news an it pissed me off.
Making the Lake District more accessible to raspberries an ethnics.
Cutting mobility ramps through Wordsworth country? Fuck that!
The whole point is to see unspoilt countryside, push your bodies limits, and get away from others,
This Dickie Leafe is a fucking Moron.
I climb the top of scafell pike and its full of peacefuls?
Well footing can be slippery an it gets misty up there, come down a lot faster than went up.
Nominated by Miserable northern cunt
Who's stopping minorities going to the Lake District? Was there an advert somewhere that said; "Non-whites, stay the fuck away from the lakes"? Is there some kind of physical barrier that magically stops everyone except white people going there? Or maybe…just maybe…they're not going to the lakes, because they don't give a fuck about the Lake District.
Nominated by Quick Draw McGraw