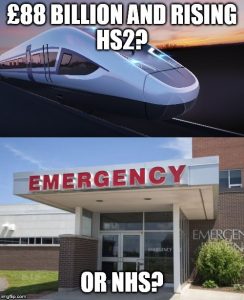 What a load of horseshit this white elephant is turning out to be!
Years ago it was first mooted the overall cost to connect London to Birmingham, Manchester, Leeds and other Northern Cities, would be around £30bn.
Not surprisingly this was "readjusted upwards" to £56bn in 2015 to factor in all sorts of "miscellaneous and unexpected costs".
But it doesn't end there, because just a few days ago a leaked government review (by the Hs2 chairman Douglas Oakervee), suggested the final bill could be upwards of £106bn – almost twice the 2015 guesstimate!
The review suggested that the government should continue funding the project despite the concerns regarding rising costs, while also admitting there was "great uncertainty" regarding the overall economic benefit of the project, especially for the Midlands and the North.
Even more concerning but not completely surprising is that the chairmen of various construction companies with vested interests in the project (not least Balfour Beatty, Skanska and Morgan Sindall), have recommended the government should proceed with the project regardless of the final bill!
Well, that's mighty white of them given that all they're concerned about is making as much profit as possible, even though they won't be the cunts paying for the fucking thing!
The trouble with these capital projects is that once you start them it's rare you can actually stop them when the costs start to rise. One only has to look at the ongoing farce that is London's Crossrail project, which is currently 3 years overdue and £4bn over its original £15bn target in 2018)
The Channel Tunnel is another example of a project going way over budget, as was the London Olympic Stadium in 2012. And I am sure there are plenty of other examples where no one really gives two fucks about cost, because we all know who will be there to bail them out!
I don't know who the financial project managers are for these projects, but they sure are shit at their jobs. But its okay, because good old Mr and Mrs Taxpayer will be there to dig them out of the shit, while at the same time making sure the bigwig investors receive nice bonuses despite the delays and cost overruns.
HS2 can go fuck itself!
Nominated by Technocunt