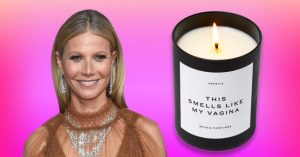 Gwyneth Paltrow – she's selling a £57 candle that supposedly smells like her vagina.
According to the ingredients, Gwyneth's vulva candle smells like "geranium, citrusy bergamot, and cedar absolutes juxtaposed with Damask rose and ambrette seed".
I wonder if anyone has put that to the test vs the real thing.
It's already sold out on her 'Goop' website, but if you want your house smelling like rancid fish, supplies of said item will soon be available again.
Nominated by Mystic Maven
A scented candle cunting for "doing my bit for the environment" glitterati whore – Gwyneth Paltrow – is richly deserved.
I thought it was April 1st but no, Ms Paltrow has released a scented candle called "Smells like my vagina!" from her cosmetics/household range. She does not state if the smell essence is taken before or after bathing for the day but I would imagine:
"Scent of Brad Pitt's Gentleman's Relish Remnants!" or "Eau Du Effeminate Chris Martin's Leg Dribbles!" would be more appropriate.
So modern society now monetises internet skank, dirty bathwater and now le parfum of Iron Man's squeeze's snatch!?!
Oh, and apparently she's sold out too. Go get 'em beta soy neck-beard cunts!
Nominated by Rebel without a Cunt!