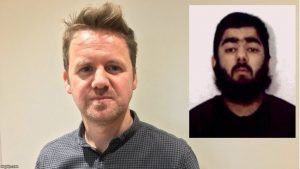 Christopher Dean, no not the skater, the cunt below: –
'The psychologist behind the UK's main deradicalization programme for terror offenders says it can never be certain that attackers have been "cured".
Christopher Dean told the BBC some terror offenders who take part in his Healthy Identity Intervention (HII) scheme appear to regress because of their uniquely complex identities.'
Well, he seems to be spot on with hindsight doesn't he? After his shining example, Usman Khan (surely some relation to another cunt Khan) went on a murder spree. I wonder how much we pay this cunt for his HII scheme, which doesn't work? I'm no psychologist, but for fucking free, I know what does work:-
Throwing away the key.
Tough US style detention.
No access to fucking Saudi funded Imams.
And, when all else has failed, a copper with a gun.
Nominated by Cuntstable Cuntbubble