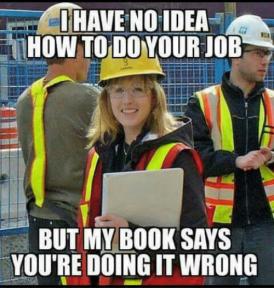 Cunts who watch some YouTube video and then become fucking experts.
I went to fell a tree in a couple's garden. Thought that there'd be no drama until I got there and was confronted by the neighbour. He'd obviously watched a couple of tree-cutting videos and was keen to give me the benefit of his wisdom…" An easy enough "fall" he says " I'd have done it for them myself but don't have the saw for it"……
" Won't the electric cord for your Black and Decker reach then?" I innocently enquired. Didn't stop the gobshite " I'd use a bore-cut on a leaning tree " was his next jem..
"Aye well,you'll know all about boring, I'd guess" I replied. That gave the Cunt pause for thought and before he could fire up again, I fired up the saw and drowned him out. When the tree was down the patronising Cunt even had the gall to say to me "Textbook "fall" that…well done"…Just what I've always craved.the approval of some daft Gobshite.." Couldn't have done it without your advice" I told him " I'm away for a shite later,any instruction for me on which way to wipe?"….Poor Cunt looked a bit crestfallen at that one,it must have dawned on him that I wasn't going to encourage his delusions of being a tree- cutter and start talking trade with him. In fact all I seemed to have done was confirm the widely held belief that I'm a bit of a twat.
My problem is that he'd obviously watched a couple of videos and seemed to think that it made him an expert. I was half-tempted to hand him the saw and tell him that here was his big chance,it was only the thought of having to attend the Windbag's inquest that stopped me.
I admit that I have often watched videos on how to do jobs and then had a go myself…with mixed results,I must admit.However I would not dream of approaching a tradesman doing his job and then start trying to tell him his business.
Fuck Off.
Dick de Pfeffel Foxchaser-Fiddler