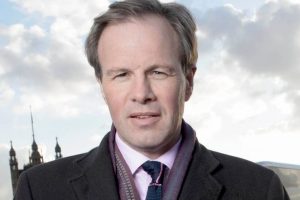 Time was when ITV newsreaders would simply do their job, ie sit up straight, speak clearly, wear a jacket and tie and read the news. We all knew Reggie Bosanquet and Alastair Burnet appreciated a few pre-bulletin sharpeners "A G&T but forget the tonic " but these blokes had real world experience and some fought in wars. Sandy Gall spent years embedded with the Mujahadeen in Afghanistan long before it was fashionable and even had the pineapple face worthy of a few shrapnel wounds.
What do we get now? A right bunch of fairies of which Tom bloody Bradby is Exhibit A. No mate, I don't want to see you dabbing your eyes and expressing your opinions at the latest Syrian atrocity, I don't care that you're best mates with Mr and Mrs Hewitt (*) and I certainly don't give a flying shit about your over-publicised 'battles with insomnia', still less read your latest novel.
Tom Crybaby….the very template for modern day emoting and self-entitled opinionating. And you and the rest of your ilk can stop waving your arms around whilst you're at it.
* 90% of whose woes are entirely self-inflicted
Nominated by Isaac Hunt