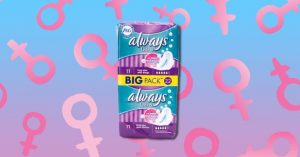 Proctor and Gamble are cowardly cunts.
They have vowed to remove the female symbol from the packaging of their 'Always' brand sanitary towel, following complaints from a couple of women, who now call themselves men, but still require the monthly services of a snatch plaster. This is going to be one of those stand back and enjoy the fireworks moments, as quite a few women, and some of them of the feminist persuasion, are not happy with the change, and want the symbol to remain.
Unfortunately, feminism is no longer the force it once was, and it frequently comes into conflict with the xyzzzzzgbt+ community, usually coming off second best. Feminism is so 1980s, don't you know. In fact, the only time you will hear from a feminist is if they are BAME, as there are a constant stream of those, especially on Radio 4.
After decades of the male element of many things being removed to make them more inclusive, it is now the turn of the fairer sex to experience this nonsense. And, it only takes a couple of drag queens, and one or two schizophrenic women who think they are men to make changes, not years of campaigning. Life isn't fair, is it ladies?
Nominated by Gutstick Japseye