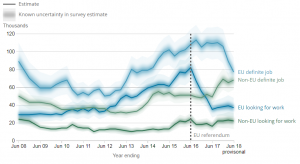 Guess who chose Monday 21 October to release some more truly appalling news whilst the rest of the country was distracted by the latest Brexit hijack in Westminster? Kerrching…. our old friends at the ONS. What a coincidence!
With particular reference to UK Population Growth.
It seems we're supposed to be placated that this isn't now as high as forecast a while back as it will grow by a 'mere' 3 million from 66.4 million in mid-2018 to 69.4 million in 2028. The real killer stat is that "70% will be driven by international migration". And that's what they're owning up to.
Given the useless ONS's habit of continually having to revise its figures upwards and that they sure won't be guesstimating the thousands arriving in containers or via Eire or deportation orders never enforced we can be 100% confident that the figure will be nearer 5 million. So 5m/10yrs x 70% = 350,000 EACH AND EVERY year for a decade from abroad.
Schools; NHS (correction : INHS); roads ; Social Services; Council Houses; Gawd knows what else.
But what boils my piss most is the complete indifference of the metropolitan cunts in ABBC ; The Guardian; Channel 4 News etc etc. But of course not – these fuckers in Notting Hill, Islington etc are completely untouched by it!!
Nominated by Isaac Hunt