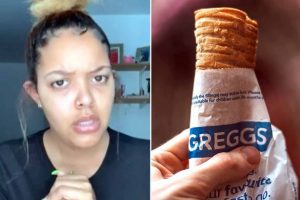 A Concours cunting is badly needed for yet another weak as piss snowflake cunt, Sharleen Ndungu.
"Who the fuck is that?" I hear you ask. She's another attention-seeking mong who is now apparently "traumatised for life" after being served a sausage roll with (shock horror) pork in it because she's a vegan AKA an easily lead "look at how cutting edge I am" cunt.
To quote: A woman claims she started having heart palpitations and broke down in tears after being served a sausage roll that contained sausage. Sharleen Ndungu, 20, is vegan and she went to get a bite to eat at Greggs in Canterbury, Kent. But when she started eating it she realised the sausage roll contained real meat. She said: 'I haven't had meat in two years. My belly started hurting and my heart started going crazy. 'I was panicking because that only happens when I consume meat – this doesn't happen when I have other food. I'm traumatised for life now – I'm never going to Greggs again.'
Traumatised? My arse. Fucking dumb millennial cunt. Mountain out of a molehill syndrome just to gain paper articles and soshal meedja coverage. The people who have experienced real trauma are those who are scarred from war and genocide, not by going to Greggs and expecting them to pander to the demands of an over-entitled Twattermong.
Fuck off.
Nominated by TwatVarnish