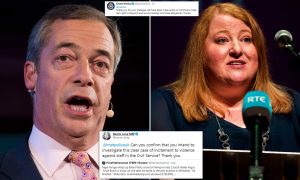 A well-earned cunting for Naomi Long, from unknown leader of the Alliance party in Northern Ireland and an MEP.
What has this ridiculous woman done? She's reported Farage to the police for incitement to violence after he said they would take a knife to the civil service if they had the power to after an election.
Now for someone who's leader of a political party, you'd think she would be familiar with the word cuts and the origins of the word.
What sort of hysteria is possessing politics? How can people like this continue in politics?
Cut it out love. Your politics are less attractive than you are.
Nominated by Sixdog Vomit