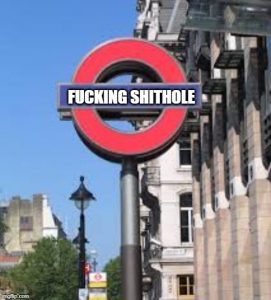 Could my nomination for London Cunterground be considered please?
London Cunterground have managed to defy the laws of physics. According to their train timetable system, 1 min and 38 seconds of terrestrial time is 1 min of London Cunterground time. Whilst standing at Stratfordstantinople Station this morning, I compared the timing of their indicator board with my own very accurate Seiko watch and the findings were astonishing. I have never stood so long waiting for a train, supposedly one minute away, to finally clatter in.
London Cunterground is not the only operator that has its own unique dimension of time. Network Cunting Rail tried to convince me that a train that took 8 minutes to reach the station was 1 minute away at the start of the 8 minute period and that stayed the case until the wheezy old loco crawled into the station in time for the driver to jump out in seek of a cup of tea and presumably some Battenburg.
Fuck London Cunterground and its Martian time zones. I blame 'Quatermass and the Pit' for their chicanery.
Cunts.
Nominated by Paul Maskinback