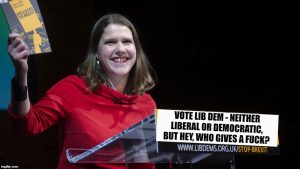 I'm failing to see how they can persevere with this name, as it is not an accurate description of the party, or it's people, be them the cunts who represent the party, or the cunts that vote for them.
I've always considered myself as liberal, not in the political sense, but I've always believed that people should be allowed to do pretty much whatever they want, provided they abide by a few rules, that they do it on their own time, their own money, their own land, and primarily, that it doesn't affect anybody else. Respect for others is the key. Opinions, and free speech are a given, but if people are minding their own business, and respecting others, let them be.
The Lib Dems have always been on the loopy side, and they were always dismissed as a protest vote, usually by clueless students, and hippy type middle class, middle aged bellends. However, in recent times, they have found a new popularity, for their stop Brexit at any cost stance sits well with a lot of the more deranged people who voted remain. Even washed up politicians, who failed in other parties are making it their home, making them an even bigger cabal of cunts.
These cunts don't seem very liberal anymore, as they think that people must think what they think, feel what they feel, and do as they say. They also seem to have forgotten what the word democracy means too, as anyone who witnessed that crazy looking and acting harpie, Layla Moran on 'Question Time' the other day. She said categorically that if there was a second referendum that they keep asking for, and leave won it again, by any margin, they would still not respect the result, and carry on opposing it. This is not her opinion, it is shared by the leader of the party, Jo Swinson, and I imagine the rest of the cunts involved.
So, will they please change their name to better reflect their political stance? National socialism has already been used, but something similar would probably work.
Nominated by Gutstick Japseye