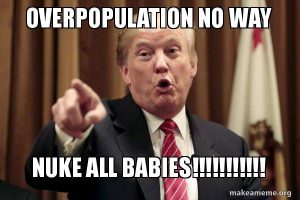 Overpopulation is a myth isn't it cunters? I know you'll agree. But here are just a few quotes to buttresses your arguments when you're controversy with people.
According to the U.N. Population Database, the world's population in 2010 w JJBill be 6,908,688,000. The landmass of Texas is 268,820 sq mi (7,494,271,488,000 sq ft).
So, divide 7,494,271,488,000 sq ft by 6,908,688,000 people, and you get 1084.76 sq ft/person. That's approximately a 33′ x 33′ plot of land for every person on the planet, enough space for a town house.
Given an average four person family, every family would have a 66′ x 66′ plot of land, which would comfortably provide a single family home and yard — and all of them fit on a landmass the size of Texas. Admittedly, it'd basically be one massive subdivision, but Texas is a tiny portion of the inhabitable Earth'
Malthus was a lad wasn't he?
In his Essay on the Principle of Population, Malthus calls for increased mortality among the poor:
All the children born, beyond what would be required to keep up the population to this level, must necessarily perish, unless room be made for them by the deaths of grown persons… To act consistently therefore, we should facilitate, instead of foolishly and vainly endeavouring to impede, the operations of nature in producing this mortality; and if we dread the too frequent visitation of the horrid form of famine, we should sedulously encourage the other forms of destruction, which we compel nature to use. Instead of recommending cleanliness to the poor, we should encourage contrary habits. In our towns we should make the streets narrower, crowd more people into the houses, and court the return of the plague. In the country, we should build our villages near stagnant pools, and particularly encourage settlements in all marshy and unwholesome situations. (Book IV,
"But above all, we should reprobate specific remedies for ravaging diseases; and those benevolent, but much mistaken men, who have thought they were doing a service to mankind by projecting schemes for the total extirpation of particular disorders'.
Let's kill off the poor. They only get in the way.
Nominated by Miles Plastic