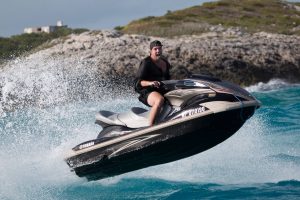 Ahhh. Here we are, first day of our holiday in Gran Canaria. We're on the beach. The sun is blazing down out of a cloudless azure sky, but my lovely lady and I are cool under a huge fuck off umbrella. Kids splash happily as the warm surf sifts through the shingle. All is peaceful, all is calm. Until…
HE comes tearing into the bay like a demented hornet on his waterborne motor bike, shattering the tranquillity. Fucking Jetski Jimmy. Or Juan, or Jurgen, or whatever the bellend's name is.
Shit. Beside me, the wife senses my agitation and stirs. Stroking my arm, she says drowsily 'relax sweetie, you're on the beach. You have to expect this'. Bah. Fucking rats' cocks. The poseur's got the entire bastard ocean, from here to Florida, to ponce about on, but what does he do? He races up and down a hundred yards offshore, making a thorough bastard nuisance of himself. Being an absolute cunt, naturally he's completely sure that his reluctant audience is as pleased with his performance as he is with himself. Take care, Jimmy. See those big rocks over there? Well we'd hate it if you inadvertently slammed into them and deep sixed it straight down to Davy Jones' locker, you and your infernal contraption both.
A pox on the makers of jet skis, and a full blown plague on the fucking tosspots that arse about on them.
Cunts, the lot of them.
Nominated by Ron Knee