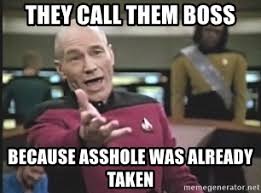 Insipid bosses are absolute fucking cunts.
I spend limited time in an office as a mechanical engineer (say 2-3 days per week, can sometimes be less), the rest is either working from home or meeting associates around the country. But the time I do spent in our office is a wretched, soul-sucking affair with the stench of indifference permeating every fucking square inch of the place.
I remember my first boss in the early 2000's was one who was a real bastard to all non-hackers and outside professions of whom we had dealings, but was fiercely protective of his own staff and the working environment. This fucker was the one who got on his own hands and knees to pull around IT cables each afternoon for a full week when the maintenance consultants were delayed. He helped redecorate and fit-out the local office himself and he took control whenever anyone tried to fuck us about. Hindsight is 20/20 I know, but I thought leaving them for a larger firm was 'progression' and now bitterly regret it.
The management of the regional office where I work now are a complete fucking nightmare. No commitment to anything, always laughing off real problems instead of showing a dire need to control matters. Clients have ripped the firm off of a fortune, but they just don't fucking care. Last year I was invited to join the regional board but I could see just how hamstrung every issue would be with their indecision, reluctance to show any innovation or desire to change things which aren't working. So I effectively told them 'fuck that for a game of soldiers.'.
As someone senior, I am fortunate enough to largely work solo and independent of the office on many projects. I feel sorry for the more junior staff, some of whom joined just as this flood hit, who have known nothing but a workplace which doesn't fucking care in the slightest.
If your boss or manager is at all motivational, even if it is caricature management speak, then trust me, be fucking grateful. My bosses are exactly like that company George Costanza worked for towards the end of 'Seinfeld'; not caring about anything or anyone outside of their own impending fucking retirements.
High time I took my fucking keister elsewhere, methinks.
Nominated by The Empire Cunts Back