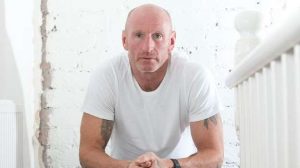 GARETH THOMAS:
Scrum down boyos for a sportsmanlike cunting for this 45 year old attention seeking ex sportsman, and putative "Iron Man":
https://www.bbc.co.uk/news/uk-wales-49675303
Yes our gay rugger bugger, not content with *coming out* 10 years ago then writing a book called "Proud" about it 5 years later in case we had all forgotten (if we were interested in the first place), has now announced the sad news he is HIV Positive, and has been for some years, which might have come as a shock to his "husband".
It seems, despite Mr Thomas protestations that he is doing this for the benefit of mankind (or at least those men who put on tight shorts and stick their backsides in the air for other players to fondle), that he was in danger of being exposed by a tabloid newspaper, so it seems he has got his retaliation in first. There is also money to be made: BBC Wales will be showing a documentary film about the Derek Jarman of sport later this week.
So discreet, this pundit, writer, social campaigner, cry-baby and sportsman.
Nominated by W. C. Boggs
I put forward an arse injected, death sentence cunting for Welsh rugby starlet, Gareth Thomas.
Not only did we have to endure the cuntitude of this cunt on coming out as gay (so what??) and also being a top rugby player (and the surprise there being?? There's more fudge packed in rugger clubs than Roundtree's and Cadbury's combined), but now we're supposed to get all teary-eyed at the fact he's now come clean as being HIV+.
I do not condone the way the media outed his contagious and life-threatening disease to his parents but sympathy… No!
This cunt may have endangered the people around him through not coming clean on his condition as soon as he knew. That is sociopathy at it's worst. Last I checked rugby is a contact sport which can result in bloodied injuries. No doubt all those he participated with/against are equally blasé about his condition and wouldn't have minded in the slightest.
If his parents didn't know then it is likely that many of his other nearest and dearest friends and family didn't know either. Friends/family with children, but instead of pillorying the cunt for his recklessness, the lefty-liberal lamestream media are heralding the cunt as some sort of oppressed hero!?!
No! He is a cunt pure and simple!
I don't care what the neo-liberal globalist media say on either side of the pond, about AIDS bastards slinging their spunk/blood around unprotected, as being "no big deal anymore" – so long as they're on their meds, of course.
That's as may be, but I'd like the right to make my own decision about such things, thank you.
I may be a luddite and "old school" when it comes to my attitude on such things, but wouldn't want me or mine to be in the same postcode as this cunt!
That has fuck all to do with him being gay, and everything to do with him being an unscrupulous and dishonest cunt!
Nominated by Rebel without a Cunt!