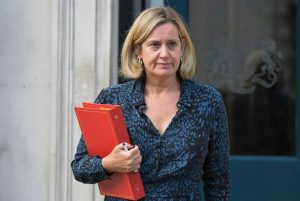 Amber Rudd has struck again!
The Starscream of the Tories has once again spat in the face of a PM who gave her another (undeserved) cabinet job and quit her cabinet job and like the other traitor jabronis who stood on a manifesto of delivering Brexit and "no deal is better than a bad deal" has quit the Tory party claiming that "I cannot stand by as good, loyal moderate Conservatives are expelled".
Now considering that the so called 'moderates' include the Limp Dumbs best friend, noted Europhile Ken Clarke, slimy ex-human rights lawyer (and doesn't show what a weapons grade cunt he is) and half-frog shit-weasel Dominic Grieve, one time Labour party member and evolutionary throwback Rory 'I'm a frail cunt' Stewart and that one scrub whose only achievements in life are being a certain hero PM's Grandson and a certain Prince's chief arse kisser… I'd hate to think what Rudd the Dudd's idea of 'left of moderate' is.
Never mind that these yayhoos are a collection of disloyal cunts who chose to take a dump on this country and their own party, huh?
Naturally, crazed harridan and leaders of the Cucks Anna Soubry and stereotypical hissy fit throwing, Owen Jones in 15 years time lookalike, dummy throwing sword swallower Nick Boles praised the Rudd Muncher(tm) for her latest act of treachery.
She was quick to stick the knife into May, despite the latter giving her another chance in cabinet, and now she's done it in an even worse way to Boris after he also gave her a cabinet job, in spite of the vile personal attack she cast on him during the Brexit campaign in 2016.
Amber Rudd – a nasty, mediocre, back stabber of the worst kind and another example of why the cunts that comprise this Parliament all need to be deleted – at this rate with extreme prejudice.
Nominated by Prime Minister Sinister