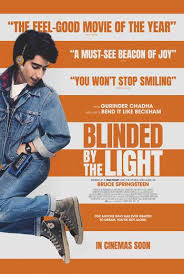 Selective appropriation and those who practice it are cunts…
After the abomination that was the 'Yesterday' film, another cunt has jumped on the bandwagon…using the songs of a popular white artist to push a PC and box ticking agenda. That twat Richard Curtis using the legacy of the Beatles to peddle politically correct crap was vomit inducing enough, but now there is another piece of cinematic shite on offer: The film is called 'Blinded By The Light' and features yet another asian personage, this time using the words and music of Bruce Springsteen. Now, some would ask what's all the fuss about, but I see this as blatant PC propaganda and they're using the work of the white and western people and artists they so often demonise.
What also sticks in the neck is that this stuff is totally one way and only 'OK' if 'they' do it. Some hapless, harmless cunt has braids or dreadlocks and they get 'Cultural appropriation' screamed at them. Kunty Perry (cunt though she is) dresses as a Geisha and all hell breaks loose on social mong media. Some actress gets the part of a transexual, but she turns it down due to rabid hysteria about it not 'being allowed' by the LGBT Stasi (same said actress was also told she 'wasn't allowed' to have any sort of opinion, as a 'straight white woman') yet lard arse, car alarm voiced Beyonce can have blonde hair and look 'western'. That 'Stormzy' maggot can wear a Union Jack. The Beatles songbook can be nicked in order to tick boxes and make certain types look good…and now they are doing it with the legacy of 'The Boss'. A bit like lefties turning a blind eye to peaceful rape and murder, it appears that certain things are only acceptable in this country if certain types of people do them.
Besides, nobody will ever better the Manfred Mann's Earth Band version, so bollocks….
Nominated by Norman