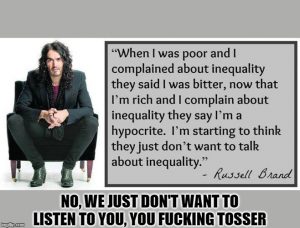 Russell Brand (yet again)
Very few of us will have noticed that this achingly tiresome twat is now begging for our attention on his own dedicated Youtube channel – 'a place to unravel the media matrix' according to his predictably pretentious introduction.
The 'I aint no fuckin' posh geezer, but I uses long fuckin words', mockney twat has taken it upon his 'dahn wiv da proles' self to become a softly-spoken guru and commentator on any subject he cynically finks will drag in the Youtube hits on his seedy little channel, thus bolstering his bulging finances even further.
Calculatingly he seems to imagine that hoards of gullible, spotty, pretentious, uni bellends will flock to the channel to suckle at his 'right-on' lefty teat and absorb his opinions on subjects he hopes are close enough to their hearts to allow him to cash in like the greedy capitalists he effects to despise. In fact though, it appears – from a brief but stomach-churningly aggravating look at his 'channel' – that the same little group of 'Anarchy' lapel badge-wearing twats turn up to join in and nod enthusiastically, almost as though the sycophantic voxpops were his own shill accounts.
The pretentious cunt has even tied his greying hair back in a pony tail and grown a fashionable bushy beard – one step short of the cringeworthy man-bun and full moozlim beard look so beloved of the empty-headed and pliable Guardi-androids.
Even more shameful is that this self-styled 'intrestin' Essex geezer 'wiv sumfink profahnd to say' appears to record many of his videos in the privileged splendour of his multi-million pound hovel – of the type that his projected audience could never hope to own, and would quite probably be justifiably appalled to know that he owns given his left-of-socialist, 'all proper'y is fefft' politics. You wonder how many lives could be saved and how many empty stomachs filled if he abandoned his hypocrisy and sold it, donating the proceeds to starving and desperately ill people. He's not unique in that respect of course, and merely represents most well-healed Trots.
I hope this awful, pretty-boy cunt lives long enough to wake up from his ludicrous, self-satisfied delusion to see himself the way the rest of us see him: a gobby, tedious, hypocritical cunt.
Nominated by Cunty McCuntface
Unfunny, pseudo-intellectual, smug, opinionated, nuclear-powered weapons-grade, rancid arsed cunt.
A cunt all other cunts can look to for tips on how to be a bigger cunt. A cunt guru. Multiple winner of 'Mastercunt', 'The Great British Cunt-Off', 'Cunt's Den', 'Strictly Come Cunting' and 'I'm I'm A Cunt, Leave Me In Here'.
Patron saint of cunts..
Nominated by G Buss