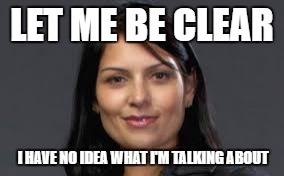 Can we cunt Priti Patel please?
She has decided that end to end encryption on messaging services should be banned, so that terror can be fought.
What a load of bollocks….really, what a load of big, sweaty bollocks. Whilst I understand the logic behind it, it's just a smokescreen for being able to invade peoples privacy, along with that bullshit snoopers charter that Mrs May was championing.
Does she really think that all the legwork involved in fighting terrorism will be reduced automatically by reading messages, especially when the police and crime agencies are already bound up in red tape when it comes to tackling any kind of crime?
Those nutter terrorists won't be that fucking stupid that they can't just do a Google search on how to set up private servers and repel ddos attacks, or hire some 14 year old computer whizz to do it for them. Just look at the various piracy sites…they get shut down then they pop back up again.
If I remember correctly they already use the dark web to communicate and spread propaganda, so that makes public messaging redundant anyway. The police have had quite a lot of success worldwide in using the dark web to catch paedos and drug dealers, so why isn't she just keeping her trap shut and letting them carry on down this route?
Like I said, a big smokescreen to invade privacy.
Nominated by GrandCuntRailRoad