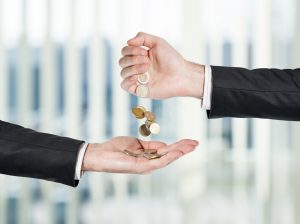 I nominate office collections for a cunting.
This is one of those things that starts off as a nice idea. Gladys is retiring after 35 years, and we want to get her a card and something to remember us by.
Unfortunately, it then it gets taken to the fucking extreme and you start having to have a 'whip round' because Jane's split up with her boyfriend (for the umpteenth fucking time,) or Tim in accounts goldfish has died at the weekend and people come around asking for a couple of quid like a mafia protection racket…woe betide anyone who doesn't want to pay.
I tend to keep quiet when these things go around and discreetly leave the room, mainly because I'm a tight bastard and don't see why I should give someone money for doing their fucking job. Isn't that what you get wages for??
Anyway it was found out that I hadn't put money into the collection for someone. When I explained the reason was that I have only met them when they started and we've never said a word to each other because we work in different teams, you'd think I'd admitted to drowning kittens.
Bastards….every one of them
Nominated by The Final Cuntdown