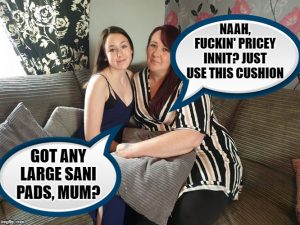 This is a story about a teenager effectively told to hold it when she asked to go to the toilet. She said to the teacher she was on her period and the teacher effectively told her to put a sock in it, so the teenager storms out 'grabbing a sani towel on the way'.
Her stupid mother says 'Maisie felt humiliated and embarrassed and it is horrible what happened to her', naturally her mother takes the story to the national press so the two attention seekers can have their photos in the tabloids and talk about their periods and feelings. It sounds reasonable to want to use the toilet when required, but this cunt Maisie-Rae has apparently been given three separate detentions for wanting to go to the bogs and now claims she has heavy periods – 3 times a month. I reckon she's just full of shit.
The school says "The situation is not as has been interpreted, but I cannot go into details". My theory is that this 'girl' is actually a boy and doesn't even have periods and the pair of them are completely off their trolley. It's the kind of shit a demented tranny boy would make up and the kind of name he'd give himself.
The school also says they have policies to deal with these things including timeout cards and 'pink passes'. Mother-cunt moots pink wristbands – "I think it would be a good idea to get the girls wearing a little pink wristband and then it would show the teachers and others that the girl is on her period and that they may be a little emotional and not able to concentrate that week". I shit you not it never fucking ends. What the fuck is the world coming to that this cunt with it's three periods a month wants to wear a fucking wristband to excuse them from academic effort, due to the disability of being a female? So just sit and stare out of the window at the taxpayers expense. She should be put out on the street to earn a fucking living if permanently pmt-ing.
Nominated by MandroidZ