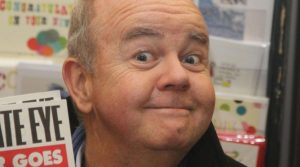 Ian Hislop is a cunt.
I have been reading Private Eye since school in the late 1960's, when Richard Ingrams was the editor and Peter Cook the owner. It was a great magazine taking a pop at all political parties and seemed to me to be fairly impartial in its' targets. It did some great work exposing people like John Poulson and Robert Maxwell. Since the referendum, they have gone into a complete meltdown and it seems that the magazine has moved so far to the remainer left that it is now virtually unreadable. The cover of the present issue is a case in point.
Have I Got News For You in the days of Angus Deayton was also fairly impartial. It is now well past its sell-by date and has become a typical BBC leftie wankfest.
Two things I have enjoyed over the years, both ruined by that cunt who calls himself Ian Hislop.
Apostrophes are also a cunt as I think mine might be in the wrong place, but I can't be arsed to check
Not sure if I got them right either, but fuck it – admin
Nominated by Wanksock