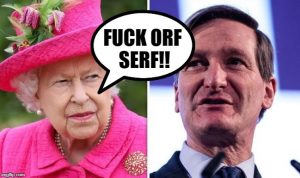 Oh dear, cunters; unfortunately It's That Man Again. Again.
Rancid Remainiacs are apparently considering a plan to orchestrate a no confidence vote against Boris Johnson in the House of Commons, designed to collapse his government and stymie a no deal Brexit. Cadaverous Cunt Grieve has called upon the Queen to dismiss the PM if he chose to ignore such a vote and allowed the country to leave the EU on a no deal basis.
Now this strikes me as, shall we say, a tad hypocritical on the part of Grievous. After all, why should Johnson not simply sit there? Refusal to accept an outcome that he doesn't agree with is a principle that Duplicitous Dom seems quite happy to follow in his own case.
No doubt the Unctuous Undertaker will be able to dig out some dusty, archaic statute under which the Queen could act. But trying to drag HM into the Brexit saga would surely place us at the top of a slippery slope, which could end up plunging the country into the greatest constitutional crisis since 1909. Not that it seems to matter to Desperate Dom and his cronies.
Well on the subject of 'no confidence' votes, I call upon the good people of Beaconsfield to exercise one of their own at the nearest opportunity, and show this shithead the door. Dominic Grieve has been a haemorrhoid on the arse of British politics for far too long.
It's time for a nice clean surgical cut.
Nominated by Ron Knee