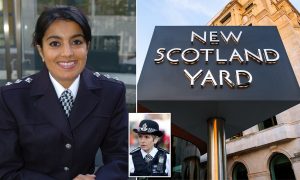 Just read this story and it has monumentally steamed my tits.
https://www.msn.com/en-gb/news/uknews/uks-most-senior-asian-policewoman-is-suing-scotland-yard-for-racial-and-gender-discrimination-after-she-was-cleared-of-encouraging-colleagues-to-nominate-her-for-queens-honours/ar-AADUtSU?li=BBoPRmx
The cunt at hand is one Parm Sandhu, a Superintendant no less, in the Metropolitan Police. She is suing Scotland Yard for 'racial and gender' discrimination.
'No, surely not!,' I here you cry. Well yes, she fucking well is. Quelle surprise, what a shocker.
She has now stirred up the shit having been cleared of misconduct allegations. Basically, there was a prestigious award up for grabs – Queen's Police Medal – and it was alleged that she broke nomination rules by encouraging colleagues to put her name forward. Naturally, nominations are expected to come from others, not the person in question, and they are to not have any involvement in the whole shenanigans.
So of course now that she has been 'cleared', she is claiming that the investigation into her 'misconduct' was due to the fact she is female and Asian. Not only is she playing the race card as far as this shit goes, but she is also now claiming that the Met's promotion system is racially biased.
Words fail me. Actually, fuck that. No they don't.
This woman has had a stellar career. She has climbed the ranks of the Police to the point of being a Temporary CHIEF Superintendent when all of these allegations came to light. Can she please explain how she was able to receive promotions when all of that time she was FEMALE AND ASIAN? So why now, only when she is at the centre of a misconduct investigation, is she crying discrimination?
What a thoroughly opportunistic, whining cunt.
Nominated by Nurse Cunty