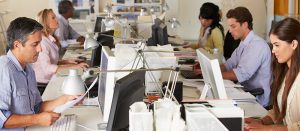 I work in an office of around 12 people of all ages, genders and personalities. But being in a relatively confined space you cannot help but people-watch, and by Christ are there some irritating cunts in my office – the same kind of cunts that probably populate most offices (and factory floors come to that), across the length and breadth of the country.
You get the two-faced cunts, who become "matey" with you only to drill information about your private life so that they can fly back to their little hive across the room and gossip to their pals.
Then there's the loud-mouth cunt, either over the phone/mobile, or shouts across the fucking office, even if other people are trying to have phone conversations with customers.
Then there's the sick-note cunt. Always rings in with a cold on a Monday; and then moans when his/her backlog is piled up and complains that no one is helping out.
Then there's the footie cunts – come Monday or Thursday, they're at it for a good hour talking about "last night's game" which was shit anyway.
Close on their heels are the soap/reality cunts – every day is the same; they twitter and bitch about so and so even though they're supposed to be fucking working.
Then you have the young cunts that can't stay off their phones; and moan when they find social media is blocked from their company computers.
Lunchtime cunts, who bring their smelly food into the office and stink the place out.
Window cunts – who open the only window in the office because they're warm, even though people nearest the window might not be; and also end up with all their paperwork blowing around the office due to a breeze blowing in.
There's probably a few more cunts, but I really can't be bothered. Needless to say I hate working in offices!
Nominated by Technocunt