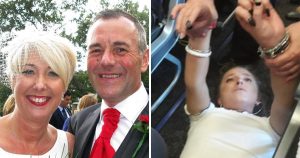 "Who?" I hear all ye cunters cry……a couple of right cunts, that's who.
This pair were on the same flight as that recent addition to Cuntsville, Chloe Haines, the crazy bitch who went ape shit on a Jet2 plane and had to be restrained, culminating in a new asshole being ripped for her, courtesy of a whopping great £85,000 bill from said airline.
Read all abaaat it!! here:https://www.msn.com/en-gb/news/world/couple-demand-payout-for-restraining-woman-who-stormed-cockpit-of-jet2-plane/ar-AAEwAk7?li=BBoPWjQ
Lorna and Clive (cunt names) apparently were instrumental in restraining her, helping to 'strap her into her seat in the chaos', so quelle surprise, what do they want now?
Yes, indeed, a payout.
They have moaned like fuck about the fact that they were only offered complimentary soft drinks whilst still on-board post-Armageddon. This wasn't enough to satisfy their inconvenience and they feel outraged that they are not being offered some of the share of the money the airline are trying to reap back from the psycho herself.
What totally opportunistic, greedy, cynical fuckers these two are. Firstly, whatever happened to just doing something because it is the RIGHT thing to do, in the event of  very desperate circumstances? What anyone would do when they see people struggling and who need assistance. That comes with a price tag now, does it?? It seems to go over their thick skulls that there were numerous other passengers on that flight who were put out and traumatised by this, but have the dignity and self-restraint not to seek compo out of it.
Secondly, are they that thick that they believe that Jet2 will see any of that money from the (undoubtedly) substance-addled chav? They should be so lucky, therefore, even if a payout was on the table, they would get a percentage of precisely fuck all.
Thirdly, even if none of this shit fest had happened, they were travelling to TURKEY for their jollies, so that fact in itself makes them giant cunts.
GREED, SHEER GREED.
Nominated by Nurse Cunty