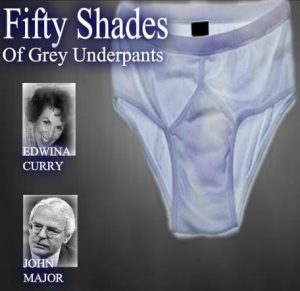 John Major is a fucking Megacunt.
Major states that he "will seek a judicial review if the next prime minister tried to suspend Parliament to force through a no-deal Brexit", and that he "was not going to standby and see parliamentary traditions disregarded in this fashion… it is utterly the wrong way to proceed".
Well, John, you are a two-faced remainer cunt of the first order. I assume you didn't mind seeing "parliamentary traditions disregarded in this fashion" when you yourself prorogued Parliament in 1997, to delay the publication of a report into the cash-for-questions scandal which was about to engulf your abortion of a Premiership? If it wasn't for double standards, you would have no standards at all.
Here's some other pearls which have dropped from your EU cock-receptacle:
"[Labour Leader John Smith] is the man who likes to say yes in Europe — Monsieur Oui, the poodle of Brussels." This from 1994- you'd think this sanctimonious congenital retard was describing himself here.
"When the curtain falls it is time to get off the stage and that is what I propose to do." This from 1997, after his party got bummed in the GE. Well, I wish you'd take your own advice. The only stage you should be on is the one that used to be at Tyburn, with a hood on and a priest walking in front of you.
"It is the one event in my life of which I am most ashamed, and I have long feared would be made public" (describing his affair with eggphobic ratbag Edwina "bony cunt" Currie). Never mind getting caught banging Currie, what about when you sold this country down the river at Maastrich, John?
Major is truly one of the biggest cunts on the planet.
Nominated by cuntzilla
Note from Admin : we have heavily edited this post to remove libelous, gratuitously insulting and actionable statements without changing the overall message. Please be more careful and edit your rants before you submit them