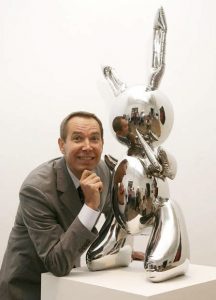 Jeff Koons
Koons is an American conman who has made a fortune out of persuading filthy rich collectors with more money than sense to buy his ludicrous "works of art". It´s difficult to describe the triteness and blatant phoniness of his material. One of his most famous pieces is a metal sculpture called "Rabbit" which sold for US$91 million. Yes US$91 million!!! It´s said to be the highest price paid for any living artist´s work.
I recently saw a TV interview with Koons who said he had been commissioned to create a sculpture for a Swedish couple who admired his work and was thinking of creating a piston engine that would be 50 feet high and cost somewhere between US$25 million and U$50 million. The Swedes loved the idea and have presumably written a blank cheque payable to Koons.
Despite all this hype, Koons, the darling of the American and Eurotrash art scene, sprang to fame on the back – or should I say up the arse – of a porn slut called Ilona Staller better known as Cicciolina. He was married to her in the 1980s and later made a series of pictures and sculptures with names like "Dirty Ejaculation" and "Ilona's Asshole" showing him screwing her.
Do I sound jealous of him? Of course I fucking well am!
Nominated by Mr Polly