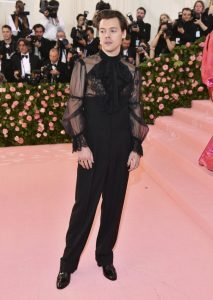 Harry Styles
I've long had the suspicion that the One Direction 'star' may, in fact, be a bit of a fanny. His recent appearance at the Metropolitan Museum of Arts Costume Gala, described as 'one of the most exclusive events in New York's social calendar', has done nothing to alter this view.
Granted, the theme of the gala was 'camp', but as the sage Piers Morgan has since observed, there's camp, and there's ridiculous. The lad minced up in a  black lace ensemble, with a see through blouse top which apparently delighted fans by offering *gasp* a glimpse of nipple. He rounded the whole thing off by wearing a huge black ruffle, high heels, and a single pearl earring. In short, a perfect demonstration of how to make yourself look like a total cunt in one easy lesson, the tart.
As for some of the other clowns attending this ludicrously self-indulgent wankfest, well don't get me started on the catastrophes that the likes of Lady Gaga and Kim Kardashian were disporting themselves in. Fellow cunters in search of a good belly laugh are advised to track down coverage of the event. Does anyone happen to know what the collective noun applying to a group of cunts is?
Nominated by Ron Knee