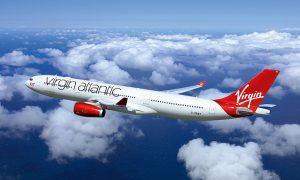 A nomination for Virgin Atlantic airlines for the following lunacy:
Virgin Atlantic is to replace its traditional emblem with a diverse range of men and women "representing modern Britain".
Among the people wearing a red leotard in the updated artwork – to be put on its new A350-1000 fleet – will be a black man and black woman, and a gay man.
Nikki Humphrey, senior vice president of people at Virgin Atlantic, said: "The saying goes 'you can't be what you can't see' and that has never been truer than the aviation industry's glamorous image in the past.
"By introducing our new flying icons I hope it encourages people from all backgrounds to feel at home flying with us, but also working with us."
Ok, so to represent modern Britain, what about featuring a barbarian brandishing a knife, a vacuous millenial with a phone glued to his/her/its head, a shrieking blue haired feminista etc…
What this country has only become…….
Nominated by Mystic Maven