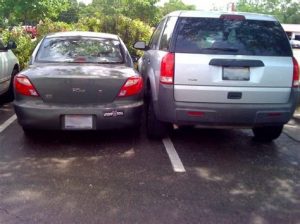 Parking Space Hogging CUNTS. Apart from the fucking idiots who crawl up your arse while you're driving, there is another motoring cunt that gets, kills, guts and barbecues my goat.
Ladies, Gentlemen and fellow cunters, I give you, fucking bastard, selfish cunting, shit-for-brains, CUNTS who park in TWO fucking spaces, right between our houses, so I can't fucking park.
Now here was me thinking that you have to have reasonable spatial awareness to be allowed a driving licence, BUT NO, these cunts couldn't fit a Smart Car in a space the length of the M1 without obstructing or inconveniencing someone.
At the moment some unspeakable MORON has stuck his/hers/trans/its VW golf right between the houses and someone else has parked in front, partially over our fucking driveway.
I wouldn't mind so much, but I put a bloody great sign outside, saying "Please Park in ONE Space". The Golf Cunt is either blind and shouldn't be on the fucking road, or, as I suspect, just a SELFISH CUNT with a bloated sense of entitlement.
If I had my way, his car would be wrapped in cling-film with a fucking great sign on top "Driven by a SELFISH CUNT" superglued to the roof and a nice ripe dog-turd, stuffed into the heater vents.
I've had to park down the road, making it a right royal pain in the arse to unload and load my gear for work.
I have now stuck a sign on his/hers/trans/its windscreen, politely pointing out my displeasure and also put an even BIGGER sign outside, in the form of an EYECHART on the very reasonable assumption that if the CUNT does this again, he's fucking blind and the DVLA will be informed. Selfish, obnoxious, pathetic cuntingly-cunting, CUNT.
Nominated by Sheikh Anvakh (Imam of all Cunts)