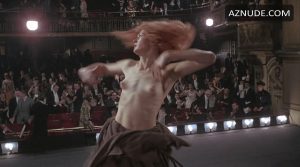 Bugger me, just saw Vanessa Redrave on't telly. Vanessa Who? Now a white haired querulous old bat but in my day the vibrant far lefty scourge orf capitalism and all its fiendish machinations against the proletariat. Fronted that ultimate right-on up its own marxist/maoist arse vehicle The Workers Revolutionary Party – and not many laughs allowed there I can assure you. For those orf you who have read, let alone remember, me reminiscences orf encounters with the ultra left in me producing days in the '50s, '60s and '70s, this is both the oifit and the lady to whom Yours Truly, orn occasion, refers.
Scion orf the theatrical Redgrave dynasty, father the AC/DC "Bunburying" Sir Michael and mother Rachel Kempson (you can look her up yourselves but had to play away due to ah..artistic differences), she was born into wealth, prestige and stardom so naturally had to bite the hand that fed her. This included naked film roles (for the statement me dears), early Feminist battles, any anti-establishment demo going plus picket lines then a long career losing her deposit as the representative orf the WRP (see above) along with brother Corin and other members of their twisted inbred faction. Needless to say have had many encounters with The Lady and count YT as one orf the rare people ever to have made her laugh. Despite her height, a gently beauty and grace possessed – even when all steamed up as she often is – the bloodline will oit. Alas all bolloxed up by the virus, nay the pox, orf political extremism.
Her fire is still alive, but only just. Sad. Excuse Yours Truly while he sheds an old man's tear for ancient battles, blood up and no prisoners and by the look of her me final battle won – but I take no pleasure in that.
The old filly (I know she should be "old mare" but noblesse oblige) has a new self directed filum oit to promote hence her ghost popping up in places unexpected . The flic is pure Vanessa, subject the dastardly migrant camps at Callis, (we use the spelling of Shakespeare in homage to her many classic stage roles and admit to being a pretentious old cunt) capitalist exploitation orf same and entitled "Sea Sorrow". Ah yes, all poor Blighty's fault, not the frogs. Her daughter Joli Richardson (nice tits, dodgy nose job) is in it.
Me artistic advice: if you have a free ticket worth a peek to have your cuntishness confirmed but otherwise if you have blood pressure like Yours Truly's, avoid like Trotsky's arse (aha the title for me next production!).
Nominated by Sir Limply