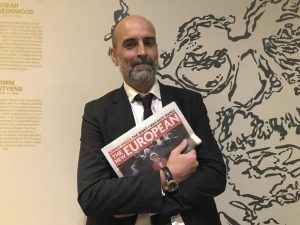 Hold the front page please for a long overdue cunting of that most risible of newspapers The New European, edited by one Matt Kelly, 49 going on 17, who, with his beard and gaunt expression looks as though he spends his nights sleeping on a park bench, and turns his one pair of keks inside out once a week in the hope that the shit stains will rub off. Although the circulation has dwindled from 40,000 to 20,000 since its inception it is allowed to mither on spewing its pro EU lies and propaganda.
Just look at this dreadful puff-piece:-
https://www.huffingtonpost.co.uk/entry/the-new-european-matt-kelly-brexit_uk_58dd52e0e4b0e6ac7093576d
No doubt Mangledbum, Grieve, Blair and co enjoy the prospect of wanking over each fresh new issue as it drops through the letterbox with the Guardian, but it seems to be a circle jerk for all pretentious wankers, who according to Kelly, send him photos of their pathetic selves reading his shitrag over a croissant and coffee, just to show "how European" they are.
Editor at large is that former porn writer turned piss artist, Alistair Campbell who "knows everybody from Clinton down" according to trendy Mr. Kelly (shouldn't that be everyone from Clinton UP?)
This Canute paper is bankrolled by Archant, who own, and have closed, many local newspaper titles (no doubt in part to fund this wretched posers and poofters status symbol).
You usually find a few dog-eared copies in any and every W. H. Smith and Sainsburys every day of the week (Lord Sainsbury is another famous Anthony Blair arsecrawler, as well he might be, as Blair gave him a job as Science Minister, where he was able to put aside his conflict of interests, of course), because the fucking rag just doesn't sell, except to a few snowflake pansies who like to show off in the coffee shop or the train. Still it must save Smiths and Sainsburys a few quid each week in toilet paper, which is about all it is good for.
I am sure our hardworking backbench MPs look forward to fifteen minutes in the bog with their New European and a jar of handcream to enjoy a good wank – probably the hardest thing they do that day. Motherfuckers!
Nominated by W C Boggs