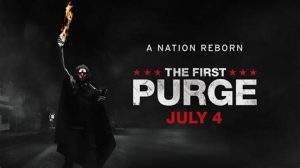 Remember – pre Trump – a film called The Purge?
It was a dystopian, edgy piece of fiction where for one night all crime is legal including murder.
The first two films (pre Trump) were basically affluent suburbanites jelous of their neighbours wealth/possessions and so wanted to exact some legal persecution on them out of spite.
The post Trump Purges (Election Night and this one) have essentially been "The Man" purging illegals, the poor and "culturally enriched".
The First Purge focuses on the first experimental purge on Staten Island (a poor and "culturally enriched" borough of New York).
This time there's not even a thinly veiled layer of humanity when it comes to the hated demographic.
Initially the purge is a big flop as the "culturally enriched" decided to merely just have happy-happy street parties like Mardi Gras, not remotely interested is looting the fuck out of everything and burning "The Man's" shit to the ground (because they never loot, riot and burn shit to the ground for any minor excuse in real life do they, no, that's completely unfactual isn't it…).
So – as it's too happy-happy – the all-white organisers mobilise their all-white special KKK, mercenary, police and military squads to start purging the "culturally enriched" only.
Needless to say the hero is Cadillac Escalade driving drug dealer, whose not really bad, he's just a misunderstood good guy with a heart of gold who loves his community.
Yes, you genuinely could not make it up.
If the purge was a reality, I'm pretty fucking sure that the hated demographic would be in the majority when it came to barricading themselves in for the 12hr 7pm-7am purge interval.
I'm also fairly sure that the "usual" opportunist looters, etc., would be out in force – not that any of that footage would be shown – for the same reason Crime Watch was taken off our screens (hmmm?).
It is the blatancy of media outlets (news, film, TV) in the post elected Trump era to demonize a single racial demographic (even though the heads of those outlets are invariably from that same demographic), with no evidence to back up that demonization, purely for political/social brownie points that rankles. Why, isn't that the very definition of "waycism"?
They live in majority white, rich neighborhoods, in gated residences with private security firms ensuring that only the "right kind" get into their protective bubbles. No illegals to be seen here (unless they're in the gardens, kitchens or nurseries).
It must be great being so socially minded when you're minted.
The only good thing coming from this pile of fact free fictional turd is that yet again it just washes over you, thus further diminishing any stigmatism of being called "waycist" because that's just anything that the neo-liberal fascists choose to label as being "waycist" these days.
Well we no longer give a fuck because that's just bullshit, promoted by elites who wish to subdivide society into smaller and smaller in-fighting sub-groups because they know that as soon as the greater public realises that THEY are the real problem, and not some cosmetic difference that we have no control over, that there will be a cultural revolution and purge, except it will be the plebs Vs the elites, and gates and private security will not be enough to stem the tide of thousands – if not millions – wishing to get "Mussolini" style on their asses!
Cunts!
Nominated by Rebel without a Cunt!